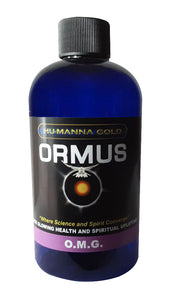 The inspiration behind this product came from a desire to create an Ormus product that would uplift anyone who consumes it to connect them to their Devine. 
So far all our Ormus products were made with the best spring water we could find and were formulated with different salts and energies.  They gave people the attributes of the minerals in the salts and the exoteric energies with which they were enhanced.  O.M.G. is formulated with the world's best restructured water and as such has given the Ormus a totally different energy.  Instead of imbuing you only with the energies of the minerals it also attracts the energy of the Devine. 
For those who work with energy, this Ormus will give you much to think about.  Everyone will feel something.  Speak to the Ormus and ask it to "make me the best I can be" and expect results!